McInnis Canyons National Conservation Area, Colorado
Located in Grand Junction's recreational "backyard," McInnis Canyons National Conservation Area (NCA) in western Colorado contains outstanding scenery characterized by towering red sandstone monoliths and deep-walled canyons, providing a stunning backdrop for the NCA's 100,000 annual visitors. The formerly-private Crow Bottom property—which sat inside the NCA's borders along a popular stretch of the Colorado River's Ruby Horsethief Canyon—could have been lost to development if not for our effort with the Bureau of Land Management (BLM) and a willing seller to protect the land in perpetuity for public recreation and wildlife connectivity.
WHY IT MATTERS
With new access from the Colorado River, Crow Bottom will provide the public with significant recreation opportunities such as hiking, hunting for waterfowl, deer and wild turkey, and a new stopping point for boating and fishing—supporting Colorado's recreational economy that generates a $12.2 billion economic impact and supports nearly 150,000 jobs. The BLM also sees potential to use this addition as an outdoor classroom for educational field trips, the removal of invasive species and for research.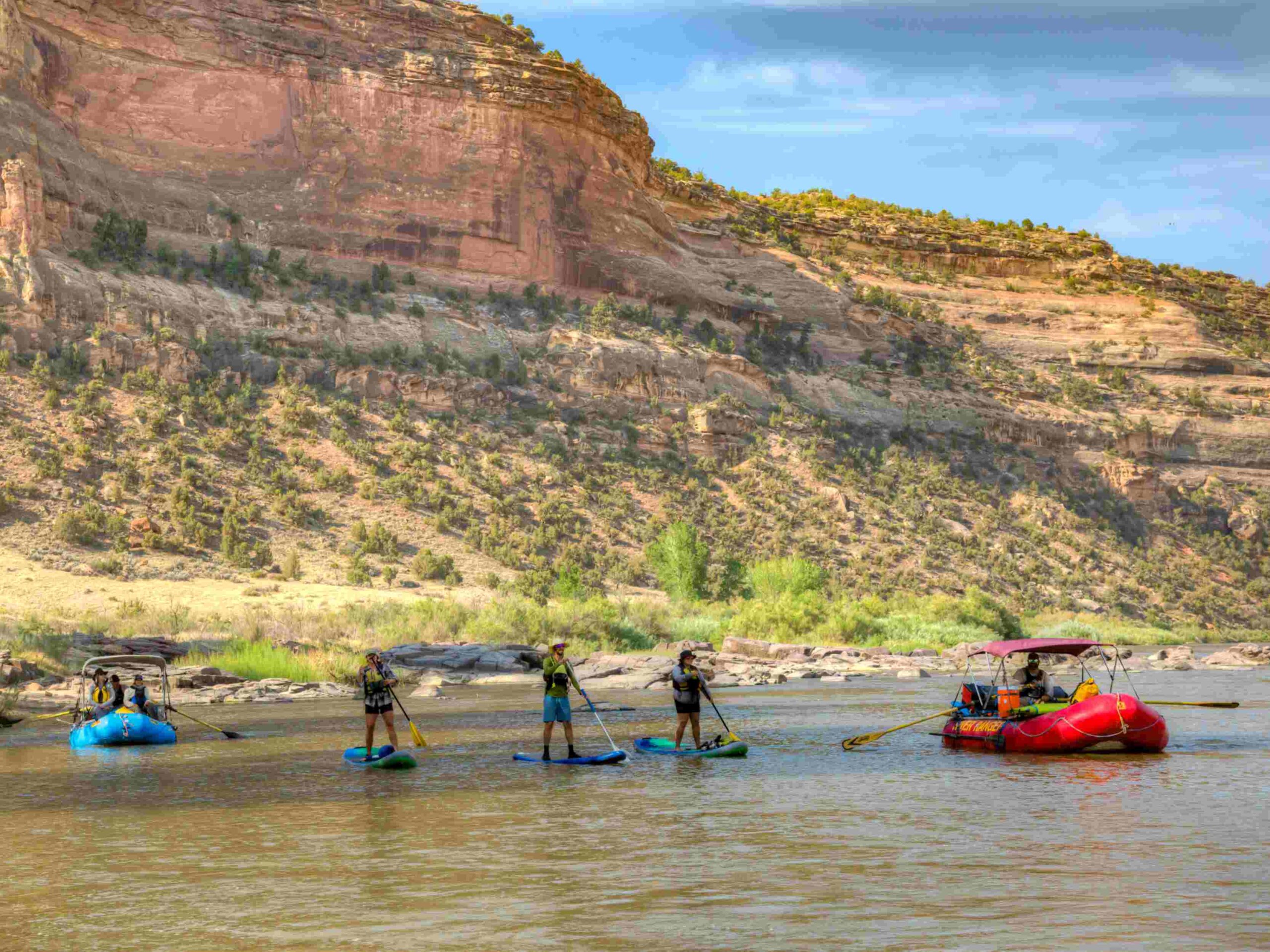 Boaters and paddlers on the Ruby-Horsethief Canyon section of the Colorado River within McInnis Canyons National Conservation Area. Photo credit: Bob Wick
"The Colorado River as it flows through McInnis Canyons NCA is a national treasure of Colorado and the West. As conserved land, Crow Bottom will boost the local outdoor recreation economy and serve a diversity of users and outdoor education groups."

—Christine Quinlan, The Conservation Fund
OUR ROLE
The Conservation Fund worked directly with the landowner over several years, ultimately securing a purchase agreement that led to the completion of this project. In June 2021, we purchased the land, held it temporarily, then conveyed it to the BLM for permanent ownership and the protections afforded by the National Conservation Area. The result was a conservation solution that aligned with the landowner and BLM's goals. Crow Bottom complements our larger conservation efforts on the Colorado River that have conserved over 13,000 acres along 26 river miles, ranging from additional river access for the public to protection of several large working ranches along the river corridor.
Funding from the federal Land and Water Conservation Fund (LWCF) was essential to BLM's purchase and protection of Crow Bottom. LWCF supports conservation projects that protect both natural resources, and recreational assets that people across the country can enjoy.
Ruby Canyon in the McInnis Canyons National Conservation Area in Colorado. Photo: Bob Wick, BLM
McInnis Canyons NCA, spanning 123,000 acres near Grand Junction and Fruita, Colorado, is a world-class recreation destination drawing visitors to the mountain biking on Mack Ridge and the 142-mile Kokopelli trail, which extends to Moab, Utah. Twenty-five miles of the Colorado River wind their way through the NCA, attracting boaters through spectacular multi-hued sandstone canyons. Among its unique natural resources are the more than 75,000 acres of the Black Ridge Canyons Wilderness, which includes the second-largest concentration of natural arches in North America, along with multiple pictograph and petroglyph sites.
LEARN MORE